SAFC star Clarke amazed by Foundation's range after Beacon tour

Jack Clarke admitted that visiting the Beacon of Light was "a real eye opener" after selecting the Foundation of Light as his Utilita Giving Community Organisation of the Month.
The SAFC star was blown away by the range of programmes that the Foundation offers during a tour and talk with Managing Director, Jamie Wright.
On what he learned about the Foundation during the visit, Clarke said: "To be honest, before coming here, I didn't actually know too much about it.
"I knew they were doing great work, but actually coming here today was a real eye opener for me, and it would be for a lot of other people if they were to come down.
"The vast spread of things they're trying to do and the amount of kids they've got here, you can see why people choose to come here. The success rates they've had over the past few years is unbelievable."
During his tour of the Beacon's facilities, Clarke was able to see some sessions in action, including a primary schools Skipping Festival and an Every Player Counts disability football session.
"They told me a little stat about the youngest person they had last year was 18 months, and the oldest was 104," Clarke added after witnessing the range of the Foundation's impact first-hand.
"That tells you there's no discrimination, everybody's welcome.
"I've seen a lot of people here today and they've all been smiling. It looks a real happy place to be.
"They've got everything going on, from engineering to playing football. I'd highly recommend just coming down here and seeing what you can get your hands into."
Supporters can donate to the Foundation and enter the draw to win a signed Jack Clarke shirt and A3 print by entering our Crowdfunder prize draw: https://www.crowdfunder.co.uk/p/win-jack-clarke-signed-bundle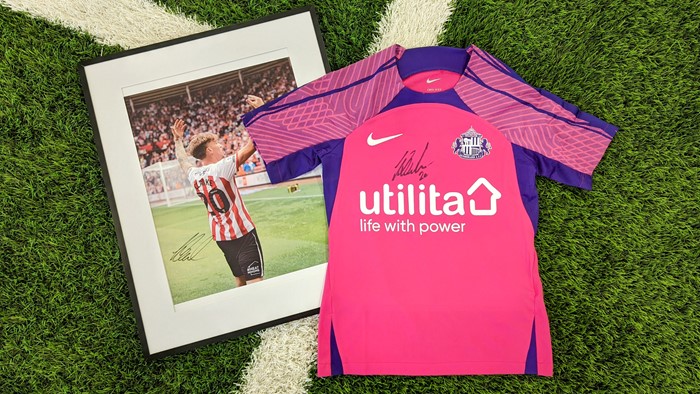 Sweet Cones and Hot Chocolate Cones available to buy from Beacon of Light with proceeds to support Foundation.

Foundation of Light and Alive and Kicking are bringing Sunderland AFC supporters the unique opportunity to design a football which will be produced and used at the Stadium of Light during our Foundation Matchday.

Penultimate month of 2023 culminates in Gala Awards Dinner, but there was plenty else happening at the Foundation of Light throughout November.